Personal Injury Lawyer and Full-Service Attorneys in Sanford, NC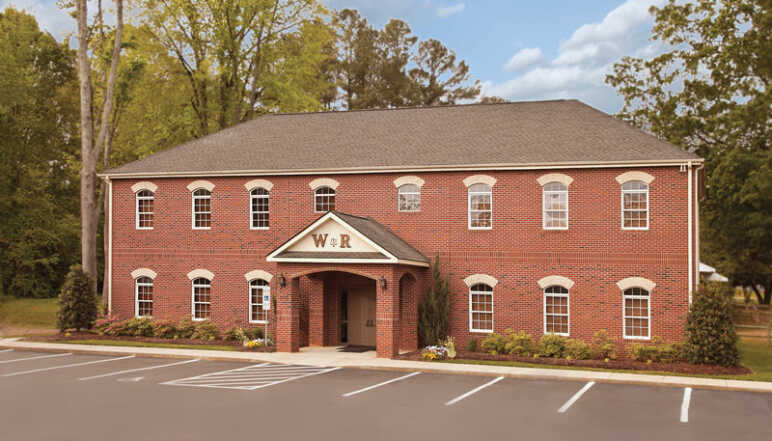 Whether your legal challenge is large or small, the bigger picture remains the same: this isn't just a case, it's your life. At Wilson, Reives & Silverman, we will never forget that. We are always listening. Our Personal Injury Lawyers and full-service lawyers are here to protect you and your rights.
Managing Your Workers Compensation Issue
Once we understand your situation, your attorney will identify the important legal consequences that may affect you and explain your options. Together, we'll determine the best course of action. Often, even a brief meeting with one of our attorneys can move you toward a positive resolution.
In those instances where more action is required, rest assured you'll have a tough, highly seasoned team with over 75 years of combined legal expertise on your side, fighting to ensure your rights are protected.
When you're facing a need for legal action – whether it's an injury and you need a Personal Injury Lawyer, or a lawsuit, or a criminal charge – you need an expert advocate who takes the responsibility of protecting you seriously.
Our Belief
The very heartbeat of Wilson, Reives & Silverman is the belief that Everyone Matters. Everyone deserves to be treated with respect and to receive personal attention and top-quality legal representation. Our mission and our passion is securing justice for our clients.
Since 1977, Wilson, Reives & Silverman has been called to serve the people of Sanford and greater Lee County, and we are now also serving Wake County. A firm with deep North Carolina roots, our commitment to this community extends beyond the "9 to 5"; through service in civic organizations, sponsoring local sports teams and supporting the United Way and Boys & Girls Clubs. One of our own, Robert T. Reives II, is serving in the N.C. House of Representatives. It's all part of ensuring everyone matters.
Workers' Compensation Claims
If you are employed by someone in Sanford with three or more employees and you have been injured or have gotten ill on the job or doing a job-related activity, you may have a case to file for workers' compensation. Your employer should have workers' compensation insurance; even if the company does not, you still have legal options to recover the benefits you need because of your injury or illness.
Workers' compensation is designed to help you recover from the financial burdens of an accident, illness or injury. These burdens include lost wages and medical bills. At Wilson, Reives & Silverman, our experienced attorneys help people in Sanford and Apex file workers' compensation claims and receive the benefits they have the right to get.
How Settlement Works
Accidents can happen in any industry, in any job, from offices to construction sites. Settlement for workers' compensation varies from case to case because the details and circumstances surrounding the accident, injury or illness are unique to each case.
Your workers' compensation case will be reviewed and benefits will be awarded based on the facts of your claim. The value of your claim depends on information such as:
Your past and future lost wages
Your medical expenses, from the past and future anticipated expenses
Whether your injury or illness constitutes permanent partial disability
Your ability, or lack thereof, to return to work
If you file a workers' compensation claim, we can work together to reach the highest possible settlement on your behalf. You can help by providing accurate and detailed information about the following:
Medical Expenses
All your medical treatment from your accident should be documented in both medical records and invoices. You should give your attorney all your medical invoices, including emergency medical services and treatment, occupational and/or physical therapy services, hospital treatment and counseling.
*Note: Your medical records and your doctor's opinions play an important role in determining the value of your workers' compensation claim. Communicate anything and everything about the circumstances and progression of your injury to your doctor. You should also attend all your appointments with your doctor, follow your doctor's advice and reschedule any appointments you can't attend.
Out-of-Pocket Expenses
If you have been injured and are filing a workers' compensation claim, or considering it, you should keep invoices, receipts and/or records of all materials or services you pay for out of pocket. These could include:
Over the counter medications
Prescriptions
Heating pads
Ice packs
Bandages
Transportation to and from medical appointments, whether it is mileage on your vehicle, a taxi service or a rental car
Impact and Severity of Your Injuries
You should seek medical attention as soon as you are injured.
If you are injured while on the job, you should report it immediately and if you feel the injury is a result of your job or job-related duties, you should file a workers' compensation claim as soon as possible. That way you are documenting the day, time and circumstances of your injury, which will be crucial in supporting your injury claims. This documentation helps the workers' compensation insurance, and your attorney, understand what happened and why you have the right to receive benefits.
Delaying your injury documentation can cause the insurer to doubt your injury or the circumstances causing it, which in turn can cause your employer or their insurance company to doubt details about your injury and possibly delay your benefits.
You can document the impact and severity of your injuries by:
This can be digital or written, but either way, you should make a note whenever you experience pain or discomfort. When you return to work, if you experience a recurrent or new injury, report it immediately to your employer in writing. You should note if your pain, discomfort or other symptoms interfere with your work. No detail is too small to document.
Photographing your injuries.
If it is possible, do so beginning at the time of the accident. Then, similar to the written log, photograph the progression of your injuries and continue taking photos at different times after the accident. You should record the time, date and other relevant information for each photo.
Getting a written statement from witnesses.
Not all accidents or injuries have a witness, but if someone did see it happen, you should contact them as soon as possible for a written statement. Memories tend to be less reliable as time passes, so try to get witness statements sooner rather than later.
Telling your medical provider the details of your accident.
This includes both verbal and written documentation. Usually, when you go to a hospital, doctor's visit or physical therapy, you will be asked to fill out an intake form. Include the details about how and when you sustained your injury on these forms. Also, be sure to communicate the details verbally with your health care professional during the initial appointment.
Time Lost From Work
If you are injured on the job or while performing job-related activities, you should immediately seek medical attention. The time you leave your work duties to get the help you need marks the beginning of time lost from work. Whenever you lose time from work as a result of your accident, write it down. Keep a journal of the time you miss, including full work days off, plus any time when you leave early from – or go in late to – work due to your accident.
In some workers' compensation cases, your ability to effectively do your job duties is compromised. In that case, your hours or wages may be reduced because of your injury. You should keep track of your pay stubs to document these losses.
Important: You are required to obtain a doctor's note to accurately and properly document time lost from work.
If you must find new employment as a result of your injury, you should keep a log of all the positions you apply to and the response from the employer about hiring.
Personal Injuries
If you have been injured due to the actions or negligence of another person or entity, that is considered a personal injury. More specifically, a personal injury claim is when there is injury or damage to your property, body, rights or reputation, and that injury results in lost wages, medical expenses, damage to your property, suffering, pain or emotional distress.
Our lawyers can help you recover those expenses. If you've experienced a personal injury, we can work with you to determine the strength of your case. If there is a chance you can win, we will help you get the benefits you deserve.
Personal Injury Claims
The most common types of personal injury claims are:
Injuries from animal and dog bites, slip-and-fall accidents and construction accidents
Injuries sustained as a result of a motor vehicle accident, which could be related to hit-and-runs, pedestrian accidents or motorcycle accidents
Injuries or illnesses related to medication, equipment and other products that did not include sufficient warnings or instructions on their packaging or if they are produced in a faulty manner
Injuries and subsequent effects of brain injuries that are significant and life-altering
If a relative has died and another person or entity is at fault, such as a drug or car manufacturer, a personal injury claim can be filed
Filing Personal Injury Claims
In North Carolina the statute of limitations for filing a personal injury claim is 3 years from the date of the injury. You can file a personal injury claim by going to civil court with a personal injury attorney. This time constraint applies to personal injury claims such as wrongful death, traumatic brain injury, motor vehicle accidents and premises liability accidents.
If you need to file a products liability personal injury claim, the statute of limitations is 6 years and begins the date you purchased the defective product.
Other Legal Services
Wilson, Reives & Silverman lawyers are experienced in a wide span of legal services so that we can serve our clients in the highest capacity possible. We offer diverse legal support for people in Sanford because you matter.
If You Are the Victim of an Accident or Crime
As a victim of an accident or crime, such as personal injury, workers' compensation, domestic abuse and tort, you deserve an experienced attorney. Our attorneys work hard to ensure you get the justice and compensation you deserve.
If You Have Been Accused of a Crime
An experienced attorney can help you understand your rights if you've been accused of a crime, defend your innocence if needed or negotiate on your behalf. Wilson, Reives & Silverman lawyers have many years of experience in representing people who have been accused of:
Traffic violations such as hit-and-run accidents, DWI and DUI, speeding tickets, moving violations and driving with a revoked license
White collar crimes, which can be fraud, tax evasion, bribery, embezzlement, extortion or money laundering
Drug charges, such as manufacturing, possession or trafficking
Murder or manslaughter
Arson
Property crimes
Additional Legal Counsel
Wilson, Reives & Silverman attorneys can also help with planning estates, wills, living wills, power of attorney, or trusts. Additionally, we can help you obtain Social Security or disability benefits or appeal denied benefits.
We also aid in civil mediation, which includes:
Disputes related to small business
Disputes between landlords and tenants
Disputes between neighbors
Custody agreements
Divorce settlements
Breach of contract